Labour and the Greens could govern alone, according to the results of the April 1 NEWS Colmar Brunton poll.
---
The party vote numbers have Labour back to the honeymoon period polling in February 2018, with National slumping to its lowest support since September 2017.
Labour Party:     48%   (Up 3)
National Party:  40%   (Down 2)
Greens:                  6%    (No change)
NZ First:                4%    (Up 1)
Act:                         1%    (No chance)
The poll result would give Labour 60 MPs and the Greens 8 in a 120-seat Parliament:
Labour Party       60 
National Party    51 
Green Party           8 
Act Party                 1 
TOTAL                  120
The PM says in response to the poll that "I just focus on getting on with the job, as do the rest of the team. The focus for us is doing our job, making sure we represent those who voted for us the best we can."
National leader Simon Bridges remains optimistic, saying "I'm incredibly proud of the National team. I think we pulled together when the country needed unity in our grief.  I think the reality is the Prime Minister has fronted and has done a good job. Over time, we'll see difficult issues for the Government come to the floor again. We expect to see those numbers change again."
On NZ First's result, the Prime Minister said that general elections have a "particular pattern with support partners that tends to be followed, outside election years you do see that fluctuation.
"Overall, those numbers for support partners is still really strong. I'd like to see that as a vote of confidence for the Government as a whole."
The Preferred PM poll is even grimmer for National:
Jacinda Ardern    51%  (Up 7%)
Simon Bridges       5%  (Down 1%)
Judith Collins         5%  (Down 1%)
Winston Peters      3%  (No change)
The good news for National is that their supporters aren't phased: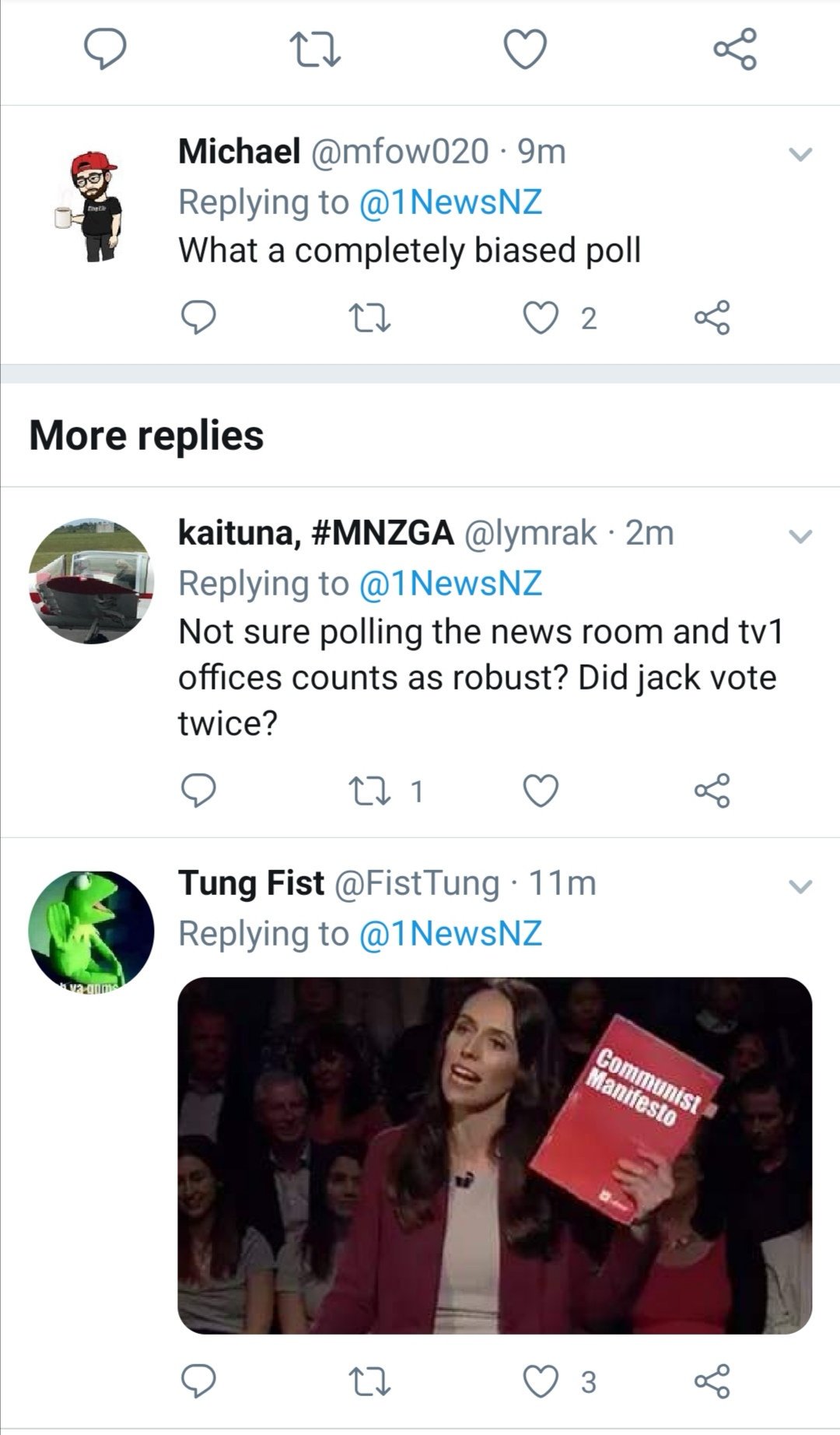 The small print:
Between April 6 and 10, 1009 eligible voters were polled via landline and mobile phone. The maximum sampling error is approximately ±3.1%-points at the 95 per cent confidence level.