At first glance it seems strange to have Sue Bradford, a former Green MP, against what is a very 'green' policy – free contraception.  There's no better way of reducing human impact on the planet and climate change etc than not existing, and – advocating suicide obviously being out of order – contraception and fewer children is arguably one of the most needed policies for nature.
But she most definitely has a point.  As ever it comes down to power imbalances: a case worker taking you through how you need to get long-term contraception, in theory you have a choice, but practically..?
The question has to be: why not free / cheap contraception for everybody?  Sure, this is a penny-pinching National government so maybe just everybody with a community services card.  But if they're worried about people going on benefits because of children then it probably should be just about everybody though…
I'm not quite sure about the right's obsession with people (nay – women, let's not forget this is always targeting women) having children while on a benefit.  Would they prefer that a child was had and raised for 5 years, the woman goes back to work briefly before having a second child and being on the benefit for however long?  Or is it better if they have 2 kids 2 years apart and get back to work with 3 years less on benefits in total?  Because they're essentially advocating the first option with their myopia.
And then there's their "breeding for a living"… It's not impossible there hasn't been the odd occasion where a young girl was naive and stupid enough to think that they'd be better off on a pittance of a benefit and with a child, but nobody's going to repeat the mistake and have a second once they've got first-hand evidence of how much hard work mothering is.  It ain't worth it for the lack of pay…
And if it were true that they are having children because that's their best life option – the government should really be working on providing better options.  Jobs anyone?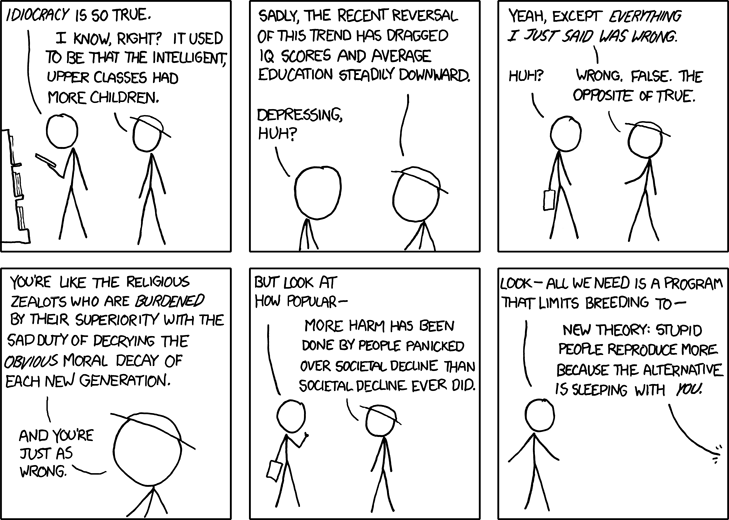 (I think I might do a provocative follow-up piece on the Voluntary Human Extinction Movement's aims for a better society later this week…  Greenies with more than 2 kids: I'm coming after you… 😉 )