Despite 22 member states confirming the Anti-Counterfeit Trade Agreement, the EU's parliament is looking like it might reject the treaty, on the grounds of it curtailing civil liberties.
The EU's first rapporteur MP on the treaty resigned in protest at the plans and member states' parliaments continued support of the plan.  The second has now reported back:
"The intended benefits of this international agreement are far outweighed by the potential threats to civil liberties."
NZ catering to ACTA has resulted in such things as the 3 strikes law for internet copyright infringement.  The list of changes Tim Groser sees as required are here.
One of the original arguments against ACTA was its secrecy in negotiation (similarly the TPPA), but the text was leaked, and at signing officially released (wikisource).
The biggest argument is to do with how copyrights create monopolies for the holders, which are against the users' (ordinary folks') interests.  Copyrights can be useful for funding innovation, but ACTA pushes the balance too far towards the holders, and against the users.
Which is how you end up here: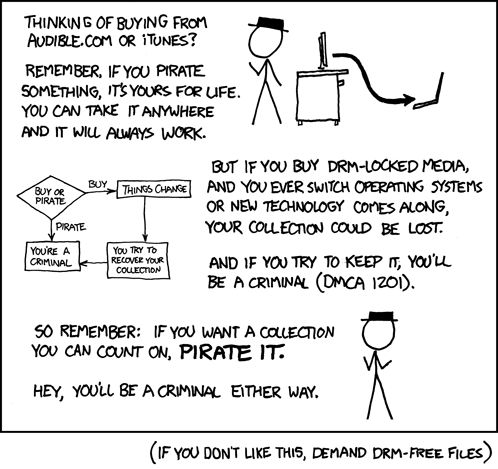 ACTA requires action against those who have or use "TPM [technological protection measure] circumvention devices" – which could be as simple as a black felt pen…
If you want action against ACTA, you've already missed the protests of hundreds of thousands across Europe on 11 February, but you can sign a petition here.  (Interesting facts and figures here).
–
Speaking of 3 strikes legislation the first infringer has until Thursday week to prove their innocence or face being hauled before the Copyright Tribunal and getting an up to $15,000 fine.  Loss of internet access is at least suspended as a possible punishment thanks to Labour's action last year.
You will currently only get done for allegedly pirating music (if you can't prove your innocence) as the New Zealand Federation Against Copyright Theft (owned by the United States Motion Picture Association, representing movie studios) has decided against asking internet providers to issue infringement notices to customers – due to the $25 / infringement notice cost (which is less than the actual cost to the internet provider of issuing it…). But they're lobbying against that, and have the Economic Development ministry currently reviewing those fees…
But you've got to ask: