James Casson is a Hamilton City councillor. He thinks refugees are scum and we should quit mourning those killed in the Christchurch terror attack.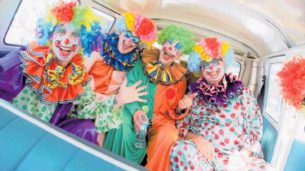 This former copper (second from left) is an idiot, obviously. When one of the most conservative organisations in NZ reckons you're beyond the pale, you've got problems.
And we've got problems too.
Unfortunately, Kiwis tend not to care much about our council elections.
Voter turnout is low and there are occasionally fewer candidates than vacant positions.
And indifference leads to the election of jerkoffs like James Casson.
This years local body elections are on October 12.
Candidate nominations cut off on the 16th of August, the same day the rolls close.
Have a think about standing, people. There's not a single commenter here on the Standard, left or right, who is less worthy of a council seat than the bigot James Casson. Or his equally dimwitted fellow councillor Siggy Henry, for that matter.
This is not just an issue in the, ahem, City of the Future, its NZ wide.
Have a think about standing. If you don't want to stand, help.
Get involved on your council campaigns at local level.
Volunteer.
It'll be good practice for the next general election, which, word of warning,  isn't actually won yet.