The nutters in this case are the misnamed Climate 'Science' Coalition who appear to have no ability at science, but quite a good track record in convincing the feeble minded, like Rodney Hide. Of course that is probably just politics. Act appears to have a track record of maintaining an open door for letting any nutty special interest groups write their policies and allowing nutters to become their MPs and disgrace themselves. But I digress.
The nutters are currently running a case against the NIWA who are the body who run and interpret our weather records amongst other tasks. The basis of their accusation amounts to the nutters saying that NIWA fiddling the books on our weather tempature records to support climate change. Because weather stations are at different altitudes, have had different equipment, and have been at varying locations over the last century, the raw values are adjusted. The nutters are asserting that these adjustments are systematically biased.
This is quite arrant bullshit as anyone who has actually done some earth sciences (or any field science at all) knows. All instruments have quirks that have to be adjusted for and there are adjustments required to maintain a series of measurements when the instruments are moved. Eventually I suspect that the court will find the nutters case to be without foundation.
There have been several unconvincing attempts by the nutters to massage the raw data to reflect the picture that they want to see. As far as I can see, the whole point of the case is an attempt to take control of the data being fed to politicians and change it to something more palatable to the prejudices and biases of the ideologically driven nutters and their feeble-minded political friends.
Anyway, on Thursday…
NIWA today released a report reviewing its seven station temperature series, which adds to its analysis of New Zealand's temperature trends over the past 100 years.

The report was independently peer reviewed by Australia's Bureau of Meteorology to ensure the ideas, methods, and conclusions stood up in terms of scientific accuracy, logic, and consistency.

"We asked the Australian Bureau of Meteorology to conduct the peer review to ensure a thorough examination by an independent, internationally respected, climate science organisation", said NIWA CEO John Morgan.

Mr Morgan confirmed that the scientists from the Bureau's National Climate Centre concluded that the results and underlying methodology used by NIWA were sound.
But a chart is worth a thousand words.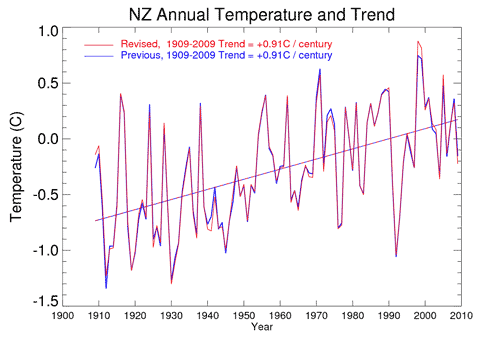 As Gareth put it in his post at Hot-topic – "NIWA's new NZ temperature series: plus ça change…" (also at sciblogs)
…as expected the changes from the "old" seven station series are more or less negligible. The trend over the last 100 years is identical, 0.91ºC per century, as the graph above shows. There are minor differences in some years, and larger ones at some stations, but the net effect to is confirm what we already knew: New Zealand warmed significantly over the last century. Commenting on the new report, NIWA CEO John Morgan said:

"I am not surprised that this internationally peer reviewed 2010 report of the seven station temperature series has confirmed that NIWA's science was sound. It adds to the scientific knowledge that shows that New Zealand's temperature has risen by about 0.9 degrees over the past 100 years".

I'm not surprised either. But I confidently predict that the NZ Climate "Science" Coalition and Richard Treadgold will still find something to whinge about. After all, they're trying to sue NIWA to have the original seven station series declared invalid. Now it's been replaced — by something that looks rather similar. Which just confirms how shonky their original complaint and their subsequent silly suit really were.
Indeed. I can just imagine the whining taking place now. Personally I'd suggest that as part of their defense in the court case, NIWA take the disclosed 'evidence' from the nutters, mostly from Chris Treadgold, and get the same evaluation done on that. Previous attempts by this pack of illiterates are notable mostly for their basic errors of procedure.