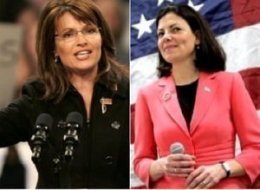 Reading on the always interesting Huffington Post, I ran across this – "Sarah Palin's Endorsement Of Kelly Ayotte May Have Hurt Senate Candidate's Campaign (POLL)".
A new survey from Public Policy Polling finds that Ayotte has experienced diminished support from moderate voters since the ex-Alaska Governor issued a statement of support for her candidacy.
The excerpt from the poll of New Hampshire voters was classic.
The Palin endorsement may well be playing a role in this. 51% of voters in the state say they're less likely to back a Palin endorsed candidate to only 26% who say that support would make them more inclined to vote for someone. Among moderates that widens to 65% who say a Palin endorsement would turn them off to 14% who it would make more supportive.
I make no real claim to understand American politics and I get the impression that neither do most of the voters there. However it does appear to me that the screaming RWNJ (right wing nut jobs) there are starting to lose influence even within the Republicans because of their ability to turn off moderate voters as well as their disruptive campaigning against the selection of candidates that may even have a whiff of ideologically impurity.
For example in the Utah primary, which has a rather interesting pre-selection system for GOP senators..
WHAT'S not to like about Senator Robert Bennett? The grandson of a Mormon leader and son of a senator, he is as much a part of Utah as the Great Salt Lake. His conservative Republican credentials would have seemed impeccable not long ago—he opposes abortion, likes a flat tax and voted against Sonia Sotomayor for the Supreme Court. There were questions about his role in the Watergate scandal, but that was long ago, and Mr Bennett, 76, has spent three terms in the Senate without notable sleaze or incompetence. Other senators like him. So do politicians in Utah. Mitt Romney, still a star there, endorsed him for a fourth term.

And yet, in this unusual year, this was not enough for Utah's Republicans. At their convention on May 8th they ejected Mr Bennett unceremoniously from participating in the Republican primary on June 22nd.
Utah's nomination process is unusual in that relatively few party faithful, through a caucus system, have the power to pre-select candidates for the primaries, knowing that Republicans invariably win the general election. Had Mr Bennett faced all registered Republicans, he might have survived. Tea-party candidates in states with traditional primaries have not done well so far.
The problem for the RWNJ tea party activists is that winning these selection battles may mean that they lose the war – their hand picked candidates run into the moderates like those in New Hampshire. Merely knowing that the tea party or one of their favorite politicians has endorsed a candidate becomes sufficient to turn moderate voters off them. In some cases (probably not in Utah), this spoiler effect will be sufficient to tip the election.
In New Zealand terms, it'd probably be like getting Rodger Douglas to endorse someone. Mind you, I think that the ultimate kiss of death here would be to get the support of WhaleOil. I'd almost swear that his attacks on the National Party president were a major contributing factor in Goodfellows reelection. I'd expect that Whale is now off out of the National party because it gives him more room to endorse candidates…