lprent: From Gareth at Hot Topic, his views on what 2012 will bring. I'm currently sceptical on the impact of the known Eastern Siberian methane releases – but Gareth is more worried than I am. The rest is likely. If anyone else wants to make some predictions, I'll give them a good look for guest posting them.

'Tis the silly season, time for journalists with little real news to report to reflect on the year past and make predictions for the year to come. I don't normally play that game because there are too many interesting things to write about on the climate beat, but this year I'm going to make an exception.Glenn "Climate Show" Williams persuaded me to have a chat with him on his summer Radio Live show — and yes, we did cover the last year, and the prospects for 2012. The audio's available to stream for the next week from the Radio Live site (select Dec 28th, then the 1-15pm segment — my bit starts after about 5 minutes). You may regard this post as an expanded version of my comments there (and a bit of recap on the last Climate Show of the year).
So: 2011 was the year of extremes, beyond any shadow of doubt. Wherever you looked around the world, there were record-breaking floods, heatwaves and hugely damaging extreme weather events. The USA alone had 14 separate extreme weather events with billion dollar plus damage bills (NOAA puts it at 12 with 2 more to finalise, the World Meteorological Organisation plumps for 14). The year broke no records for global average temperature — 2011 will probably end up as the 10th or 11th warmest year in the long term record — but it will be the warmest ever La Niña year. Here's a WMO graph to illustrate the point: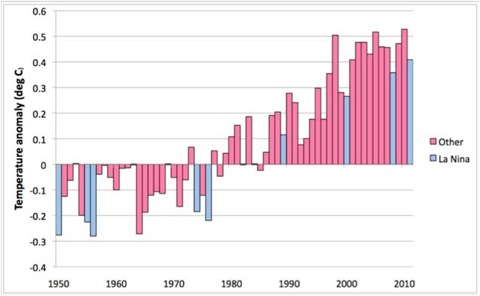 The prospects for 2012 depend in large part on what happens to the El Niño Southern Oscillation this year. Will the current La Niña hang around for another year, decay to neutral conditions, or swing round to an El Niño? The odds, according to NOAA's Klaus Wolters (on Dec 7th) are interesting:
Based on current atmosphere-ocean conditions, I believe the odds for this La Niña event to continue right through early spring (March-April 2012) are higher than 50%. Beyond that, it is worth noting that of the ten two-year La Niña events between 1900 and 2009, four ended up as a three-year event, so I would put the odds for this to occur in 2012-13 at 40% right now. Interestingly, the other six all switched to El Niño, leaving no ENSO-neutral case. Will be interesting to see how 2012 evolves.
It will indeed. A return to El Niño conditions in the first half of 2012 would boost global average temperatures, and that, coupled with the currently active phase of the 11 year solar cycle, might be enough to push 2012 above 2010 and 2005 for a new record. But more importantly, a return to El Niño would also change the patterns of weather around the world, and with them change the places that experience record extremes. Exactly how this will play out is impossible to predict, because the timing of a move out of La Niña conditions is difficult to forecast, and because the nature of El Niño's impacts on weather patterns around there planet depend on the season (see Wikipedia, NOAA and NIWA for more).
So what do am I looking out for in 2012?
More extreme weather events, with a pattern shift if ENSO changes phase.
Possible new global temperature record, if El Niño arrives early enough in the year.
Continued Arctic sea ice melt (in both volume and area), with a possibility1 of a new record minimum in September.
Lots of fine words at the Rio +20 conference in June, but little concrete action. Ditto for COP 18 in Qatar in December.
At least one nasty surprise emerging from current research. I hope it isn't East Siberian seabed methane, but we'll know more when the papers describing the 2011 Arctic research season are published.
And a very happy new year for all Hot Topic readers…