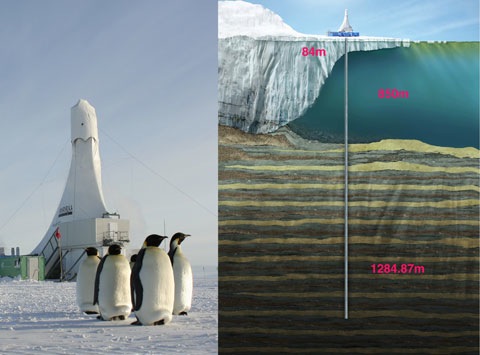 There are a few odd times that I wish I was living in Wellington instead of Auckland (not often).This is one of them.
There is a lecture by one of the leading researchers looking at the geology of the West Antarctica ice sheet (WAIS) and the critical medium-term effects of climate change.
Tim Naish says new evidence shows that changes to Antarctica's most vulnerable element, the West Antarctic ice sheet, could raise global sea levels by up to five metres.

The Director of Victoria University's Antarctic Research Centre will present this new evidence at his inaugural professorial lecture on Tuesday 7 July at Victoria University.
I have written on previously how important the WAIS is in An idiots* guide to what happens when the CO2 affects the WAIS. Professor Naish points out the critical aspect in the climate change that many skeptics appear to have a problem understanding (my italics)
'Polar ice sheets have grown and collapsed at least 40 times over the past five million years, causing major sea-level fluctuations. The most recent 'interglacial' has lasted 10,000 years, during which time global sea-level and atmospheric temperatures have remained more or less constant, and human civilisation has flourished.'
The risk levels to human civilisation involved in disturbing that benign climate balance pose a major problem over the next century. I'm a skeptic about humans being able to avoid a large scale die-back in population if they manage to trigger a change in climate. A new climate equilibrium is going to be a lot less benign for our painfully garnered technologies like farming.
Victoria University Vice-Chancellor Professor Pat Walsh says Professor Naish is an outstanding researcher, teacher and leader in the field of Antarctic research.

'Professor Naish's Antarctic research has raised international awareness about the role of Antarctic ice sheets in climate and sea-level change. Through the ANDRILL project in particular, he has provided leadership on an issue that is of global significance.'
I'd urge people to go to attend. It will be extremely interesting getting the information from an expert in the field. Perhaps a few of our politicians, especially those on the select committee on the ETS, could go and expand their knowlege of down stream effects.
The public lecture is at 6pm in the Hunter Building, Lecture Theatre 323, Gate 1 or 2 Kelburn Parade on Tuesday 7 July. To RSVP, email rsvp@vuw.ac.nz with 'Naish' in the subject line.
It'd be great if Victoria University could get this lecture up on the net for those of us lucky enough not to live on a major fault line.