I've been trying to think of a way of expressing my complete and utter distaste for the arsehole of the local blogs and politics. But someone beat me to it. Hamish Price has been attacked in the usual way by Cameron Slater. I'd guess it is because he doesn't want to play politics in the dirty and disgusting way that Cam thinks it should be played. Here is his facebook statement in response to something I haven't seen in the sewer.
This rings quite true to me from what I know of the people and timelines. In fact I'd say that it is one of the few truthful statements made in this sorry saga. It has been evident for some time that the amount of deliberate lying by the Palino team is approaching critical mass proportions. Cameron Slater of course would refuse to acknowledge The Truth is the last news spike from that sad rag penetrated to the peanut that he uses in his occasional excursions to rational thought.
But have fun reading this…. I know I did.  I even altered the banner to paraphrase a Pratchett joke while I was waiting for a server upgrade.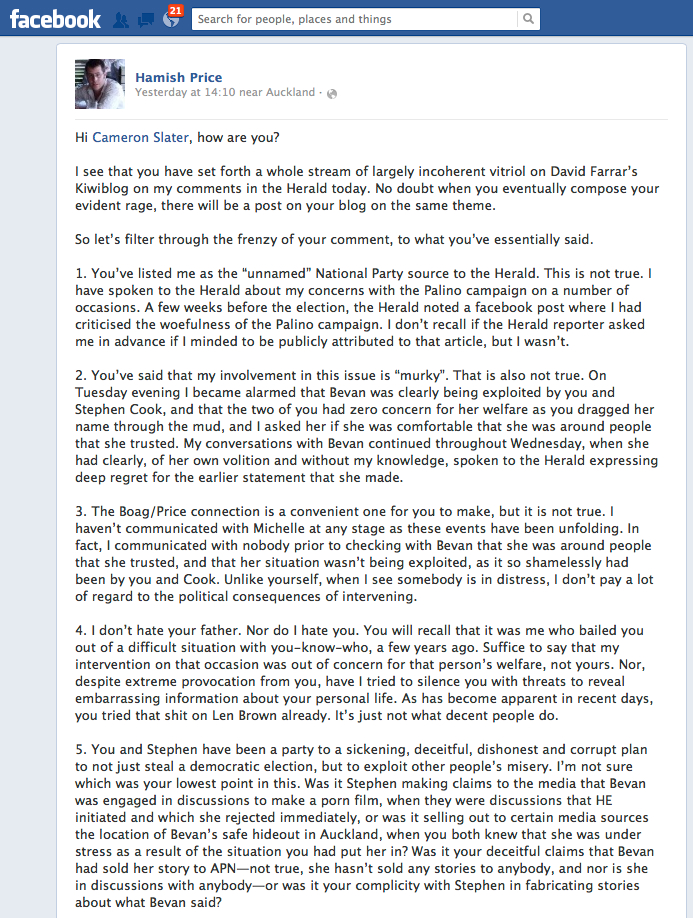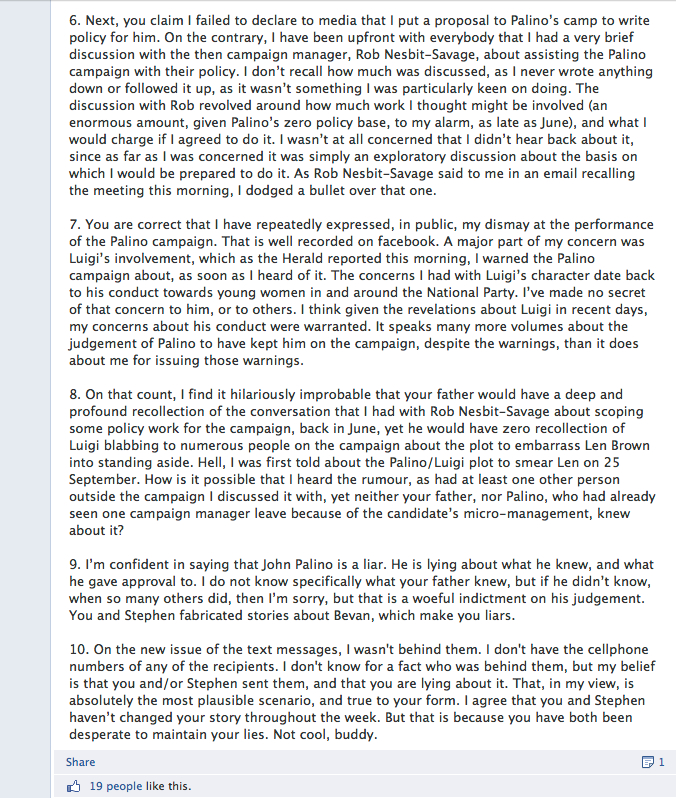 Just as a counterpoint to Cameron Slater's statement over the weekend on The Nation where he said
Slater: Well, Auckland politics is like where any politics is, in that it's a dirty, disgusting, despicable game. And it involves dirty, disgusting despicable people at all levels.  And to have this sort of high and mighty belief that New Zealand politics is clean, isn't.
Only a complete political dickhead would think that. It speaks of the approach of an amateur who is too busy grasping at small victories to seek the larger ones. Politics is almost invariably a generational process when the political system is operating reasonably well and the political and economic changes aren't jammed up. If the political system is doing its job then revolutionary changes are not required and the grubby style of politics that attracts scavenging maggots like Cameron Slater isn't used much.
Chasing the dirt on people in the way that Cameron Slater does simply builds up a wellspring of distrust.  But politics and political change depends on a level of mutual respect and trust between people, if only so the changes that are brought in aren't summarily chucked out by the other side as soon as they get a chance. You don't have to look far to see this amongst politicians and activists. Looking at the videos of Mapp and Kelsey last week arguing about the TPPA is a pretty good demonstration of the way that politics actually works.
In my experience it is only the politically toxic and ineffective who think as Cameron thinks if only because they can't work with others in anything more than a scavenger pack mode fighting over left-over offal and other peoples misery. Such hyenas become permanently politically toxic and slowly sidelined by those of us who have to work in the real worlds of business and politics. Even as rampant an individualistic and abrasive eccentric as I have been for most of my life recognises that.
But more importantly you don't get things actually being done if you act like the moronic dickhead with a head trauma like Cameron has been doing for many years. Trying to shift things by fear may be all that the fool knows. But it isn't effective in shifting the culture. For that you have to carry people with you. And the noisy but small minority that carefully cluster behind Cameron are neither smart enough nor socially aware enough to do anything of value for anyone else. They're just parasites of society.
But of course there are many countries where toxic politics are the norm, mainly because they have rather bankrupted both their political and economic systems. The USA and Italy come to mind. As well as the refugees from those countries (it is noticeable the number of Americans we're seeing moving here at present)  we also seen some of the dregs and their tactics…
But if politically toxic is where Cam has finally made it to, he has dragged or been dragged by Cook, Palino, Wewege, and probably others.
My main interest is he has succeeded in making me lose a bet I made back in 2008. He should have held out for another two years. I figured that he'd be useful to someone in National's internal factionalism after the next election. But he was never particularly patient. As has been shown by the incompetence of this particular bit of political threatre. Imagine what someone like Winston Peters could have done with it drawing out the pain. But of course Winston isn't a complete arsehole like Cameron, so he'd never have done shat on peoples lives for such a petty matter anyway.