I realise that this would normally be our silly season, but it seems a bit macabre with such an awful and predicable death toll running overseas in the northern winter. But nothing really excuses Chris Bishop for being a complete dickhead in barking for immediate offshore testing for travellers from the UK. It is pointless. Thank god that the government are a bit more sensible. They're instituting an extra test at our border.
Yes – I know that part of the role of an ineffectual opposition is to try to bristle themselves up like any other canine to look bigger than they really are. It is all part of the ridiculous game of democratic politics. Only tolerable because no-one has managed to come up with anything more stable that doesn't have regular revolts or human triggered famines.
But I'd have to say that for me, outright stupidity should be off the table – even for MPs.
There is a new strain of Covid19 B.1.1.7 being reported from some parts of the UK that appears to have an increased speed of transmission statistically. That rate is estimated between 40% and 70% more than the current dominant strains in the UK. It also doesn't appear to be any more deadly than the existing strains. We probably won't know for certain on either factor for months because that will require a pile of lab and statistical analysis to distinguish it against the other background factors – like winter, a rural correlation and staying indoors.
A selected for variant isn't abnormal for this disease. It has happened before as anyone who looks at the variant maps or data. There is a very accessible outline in the Reuters article that I pulled this image from.
While it is a slow mutating disease compared to something like influenza, the sheer number of infections means that it has ample opportunity to select from variants that have better abilities to reproduce. The virus is likely to recombine individual attributes between different strains when they are mix in together in a host.
Dr Zania Stamataki, Viral Immunologist, University of Birmingham, said:

"The emergence of different coronavirus strains a year after SARS-CoV-2 first jumped to humans is neither cause for panic nor unexpected. Mutations will accumulate and lead to new virus variants, pushed by our own immune system to change or perish.

"This virus doesn't mutate as fast as influenza and, although we need to keep it under surveillance, it will not be a major undertaking to update the new vaccines when necessary in the future. This year has seen significant advances take place, to build the infrastructure for us to keep up with this coronavirus."

Science Media Centre: "expert reaction to the new variant of SARS-CoV-2"
But apparently Chris Bishop just likes barking at cars. From New Years Eve with the political tactic of 'viewing with alarm' this was reported..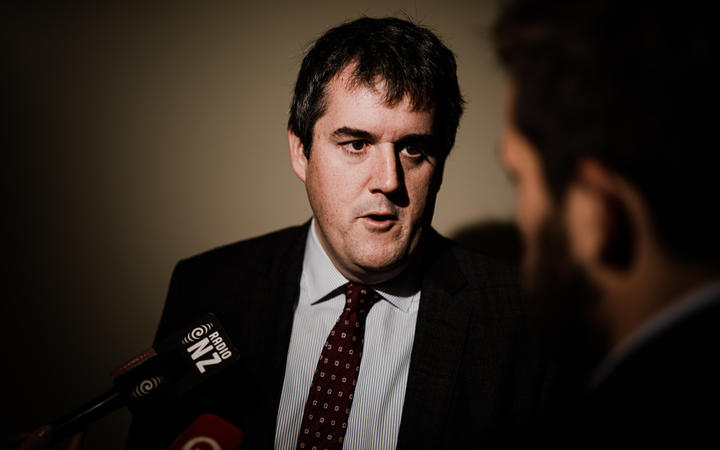 Bishop said the government needed to respond to the new strain by introducing pre-departure tests for arrivals from the UK.

"No one is saying that it's a silver bullet, it's not something that's going to magically eliminate Covid overnight, but we think it's an important part of a suite of tools that can be used to make sure our border response is as top notch as possible," he said.

Bishop said the situation in the UK was another example of why the government should introduce a 'traffic-light system' to grade the risk of incoming travellers.

"That would allow a much more intensive regime for people coming from the UK for example, compared to people from Australia. That's what people like Professor Baker and others have been calling for, and I think it's really now time to look at implementing that," Bishop said.

RNZ: "Covid-19 at border: National calls on government to address concerns over new strain"
Woof woof from the shaggy dog… I thought we'd gotten over this idiotic politicking crap now on Covid-19.
Basically that has to be one of the most mindless and outright stupid assertions that I've seen from even a National politician for a while. Sure the CDC in the USA has done it. But that is a country that is currently still controlled by a narcissistic idiot who can't be briefed and who has been dispersing similar fools throughout the federal systems – including documented and attested disruptive political interference in the CDC.
Basically what would be the point of a test? It takes time to get a test that doesn't have a high probability of getting a high false positive or negative. It takes days after infection for the virus to have a viral load that would even show up in a test.
Just going to get the test involves a significiant risk of picking up an infection. That is the whole point of having lock downs like those currently in operation in the UK – it reduces the probability of transmission.
This is followed by hanging around airports with other potentially infected people waiting for planes. Then days upon days of flying in confined spaces with a lot of other potentially infected people and waiting for transfers at other airports before they arrive here.
Currently we seem to be getting most of the covid-19 cases detected here in MIQ in the day 3 tests, but they're coming out of treatment pretty fast as well. But given the transit times that are currently prevalent for most multi-hop flights from origin to border seems to indicate that it is likely they picked up the infection in transit (BTW: I'd love to see some more useful analysis of that than the reporters are currently reporting).
So what is the point of doing the the test in the UK? Anyone rational would just isolate themselves as much as possible before boarding a plane rather than going for a test (and increasing their risk of being infected). They'd watch for their own symptoms and get tested if they had some.
After all that is just rational. Who'd want to be caught in transit with Covid-19 and turfed off the plane into isolation and possible death in a foreign country. Especially with the current costs of travel insurance. If they are asymptomatic then they're almost as likely to not test positive because their viral load just hasn't risen high enough to hit the thresholds of the tests.
This morning a more rational response was announced by the government. I had to amend my post to remove the same suggestion. Have earlier tests at our border (something we should have done a while go anyway).
New variants of Covid-19 has led the government to introduce a third test for people travelling from high risk countries like the United Kingdom and United States.

Currently everyone who travels here is tested on day three and 12 of their quarantine stay.

From midnight on 31 December, all returnees from higher risk countries will be tested on their first day as well.

Minister for Covid-19 Response Chris Hipkins said returnees would also be required to be in isolation or quarantine in their allocated room at a facility until their initial test had returned a result.

"This means if the result is positive they will be transferred to a quarantine facility effectively several days earlier than under the standard two-test regime," Hipkins said in a statement.

"We've been monitoring overseas developments very closely, and, like many other countries, New Zealand has heightened concerns about the new variants of the virus and their potential to spread more rapidly, and the ongoing high rates of infection in some countries."

He said asymptomatic people were arriving at the border and being picked up in day three testing – so the new day one test would ensure results as soon as possible.

"It will also help us identify earlier anyone who sat close to them on flights," he said.

"Our 14-day managed quarantine and isolation regime is providing one of the strongest border defences anywhere in the world. These additional requirements for returnees from higher risk countries will provide extra safety for people working in the facilities and greater assurance for New Zealand generally."

The government was also looking at the option of pre-departure testing for UK arrivals to New Zealand.

RNZ: "More Covid tests for arrivals as new strains emerge"
Perfect for everything except for
Do the day one test for everyone. There is no point in increasing the complexity of the system. Getting your sinuses probed three time is going to be no more obnoxious as having it happen twice or even once. We could also do with better data about the progression of the disease in arriving passengers and crew.
Focus any pre-departure 'option' on what do we do as vaccines become more available. Don't waste time on pointless and meaningless activities that are only useful for academic research and the airline and airport industries.
If the flight industry want to know the levels of infection in transit and the operational changes required to diminish it – then they can do that themselves. After all it is what they must do before they're able to be regarded as a means of transport rather than simply being the plague carriers. They're also the experts in shoving hosts together to share diseases globally – (opps) managing mass international transits.
Ultimately suppressing this pandemic is going to rely on being able to reduce transmission between regions of varying resistance to the disease and its variants so suppression can be done locally. So we go back to the smallpox suppression techniques. Proof of vaccination before entry. Widespread vaccinations.
But I guess that National are the same old national. Their heads still seem to be far too embedded up their own arses to even become an effective opposition. It would have taken a moments thought to come up with what Chris Hipkins announced today, and it would have made them look prescient and ahead of the ball. Instead it mad Chris Bishop look like a shaggy dog stupidly chasing a car for no apparent reason – again.