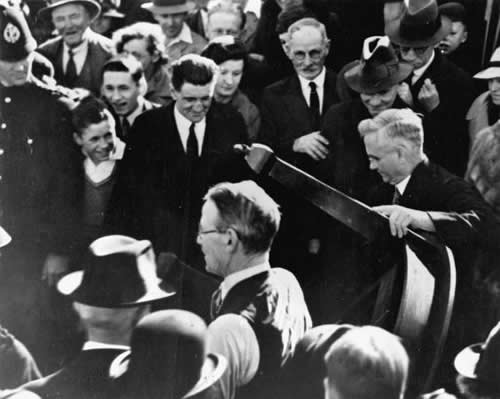 Remember the iconic photos of the first Labour Prime Minister Michael Joseph Savage and his cabinet celebrating the introduction of State Housing by carrying furniture into the first home at 12 Fife Lane, Miramar?
State housing in New Zealand was set up to provide relief for low income tenants, from insecurity and rack renting by private, profit driven landlords, during the original housing crisis of the Thirties. (The principle being, to remove the profit motive from housing, and provide decent housing at a low prices as a basic human right).
Who knew that over the decades it would morph into an organisation that provides relief for private landlords, suffering from falling private profits and tenancy rates due to the housing crisis of the Noughties? (The principle being to protect the profit making in housing, and keep prices up).
Housing New Zealand, in a perversion of its founding principles, now provides Social Welfare for private landlords, and wealthy private realtors.
[the story of 12 Fife Lane, as told here, is a microcosm of the history of state housing and social welfare]