Woke up this morning to read this on Stuff :-
WHAT YOU NEED TO KNOW

* Big delays are expected in the Auckland CBD on Friday morning due to a section of Victoria St West still being closed.

* The busy road, between Nelson St and Hobson St, closed afternoon when a 

panel fell

 from an apartment building.

* Auckland Transport is advising people to consider using alternative modes of transport into the CBD.

* The weather will be slightly better than yesterday, with only occasional showers forecasted, mainly in the afternoon.
Meh! So what? It is still going to take me just 10 minutes to get to work, rain or shine. Looking outside it looks a bit ok… I'm not going to get damp on my ride today.
A couple of years ago, I'd have been interested in these kinds of blockages. When there is any blockage in the CBD or motorways, then Auckland crawls to a halt. Not just where the problem is, but back along roads 10s of kilometres away.
This is a direct result of piss poor decisions made by central and local government as a direct result of stupid short sighted dipshits – like Mike Hosking and his ancestral shock jocks more interested in their ratings than reality. 
But I cycle to work every day down the Grafton cycleway. It means that instead of taking between 15 and 45 minutes, it now takes 9-10 minutes. I pass over the people sitting in stalled or slow cars on the expensive motorway as I travel on cheap cycleways.  
There is not a lot to understand when it comes to the cycleway, it's peddled (no pun intended) by zealots who are driven by ideology.

They operate on the "build it and they will come" scenario, except they have built it, and we didn't come. When it all becomes obvious it doesn't work it leads to anger frustration and upset for the rest of us who feel duped — hence the bikelash.
Ah no. It is mostly 'peddled' by cyclists and ex-cyclists who have been forced off the roads by fuckwit drivers who (apparently like Mike) who seem to be intent on trying to kill them.
I used to cycle to school in Auckland when I was a kid. Many years ago I had to give up and confined my cycling to the open road in the country. These days there are few parents who allow their kids to ride to school. It is too dangerous because of the cars. Instead they drive them to school – in the rush hours.
The number of cars on the road has increased dramatically in the last 50 years. The cars have gotten far larger. And of course the population has gotten far larger in Auckland.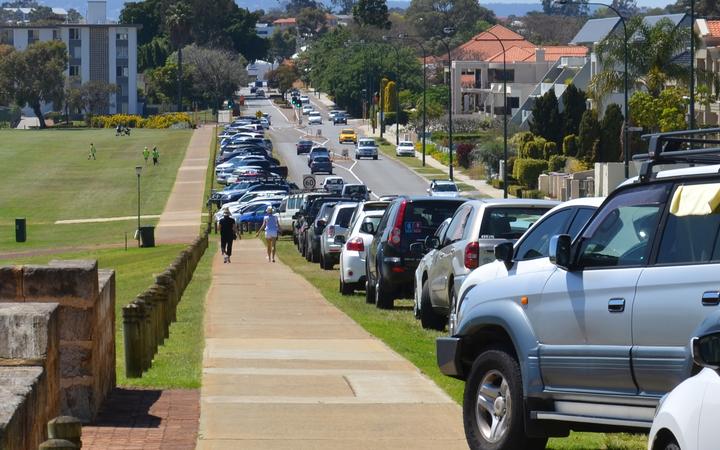 It is a rare household today that doesn't have the same number of vehicles as the number of adults with licenses. This is
why the berms are illegally filled
with parked cars and Wilsons parking taking in money hand over fist.
What hasn't increased in proportion to the population and vehicles is the available land and road space. It never will. Land is simply too valuable to keep getting covered by bitumen for space hogging cars carrying a single person.
The same conservatives who will whine about the small amounts of room taken up with foot paths and bike paths, are also exactly the same whinging arseholes who don't want to pay for expensive roads in cities. This isn't hard to determine. All you have to do is to look at the expenditures on urban roads compared to the conservative nature of governments.
For instance it was no coincidence that roads planned by National's "Roads of National Significance" were largely planted in the countryside.  But the great dearth of building urban roads in Auckland coincides with National's proxy Citizens and Ratepayers controlling councils in the urban area.
Now look at what was actually said in the article Mike Hosking was referring to.
The team observed that opposition to bike lanes often erupted only when lanes were being built, when planners and bike lane supporters had assumed the job was done.

"The level of opposition encountered can genuinely take people by surprise, and it's tapping into an underlying concern about change."

From their interviews, they found strong support among the cycling community for new lanes, largely for safety reasons.
Yeah, that is right. Despite the large amounts of public notification, planning, meetings budget allocations and all of the other bullshit that slows down the actual creation of cycle lanes – the whining only ever seems to start when they get built. That is because whingers like Mike Hosking simply aren't interested in their community or the actual hard jakka that is required to maintain society. Like other hard line conservatives like Mike, they are often unproductive parasites who are only interested in their own convenience. 
Somehow they appear to find it strange that other ratepayers would like to have safe places to cycle. 
And Mike, our court fool, was a simple liar when he said :-
Last time I wrote about this questions had been raised about estimates for some Auckland cycleways and the reality when it was actually measured seemed to bear little resemblance to what they'd forecast by way of usage.
Umm I remember that (and again it'd be very helpful if our fool could put in links).
The basic problem was that the raisers of the question apparently couldn't read estimates, and in particular the time column. They were saying that the expected user numbers in a decade should be expected to happen immediately after opening. It is hard to take this kind of twaddle seriously.
The reality is that growth in cycling along bike paths is growing rapidly. It is also measurable because there are automatic counters on most of the paths. Greater Auckland blog periodically does posts on them. Generally most cycle ways start growing in users a few years after they're constructed and then grow in percentage double digits year on year. 
What is noticeable is what happens when the final connections in the bike paths are connected up. An
April
GA post looked the North Western cycle way. 
Perhaps the most impressive, given it's not coming off as low of a base as others and the constant growth it's seen over the last few years, remains the NW Cycleway at Kingsland which is almost certainly benefiting from recent addition of the Ian Mckinnon Cycleway. To give a sense of scale for the increase, back in March-2011 just 11k were recorded at this location for the whole month. This March 40k were and this meant that during the month the 30-day rolling average peak at just under 1,400 bikes a day.
That is a lot of people off the roads using the space of a footpath. You can see the recent year on year growth. And I'm certainly noticing the increased numbers of cyclists where I intersect on the last part of the NW cycle way – especially at the terminating lights.
People
like this person
who has done about 7000 kms commuting and dropping the kid off. 
It's been a year since I've started biking to work, and this is a summary of my thoughts and observations. I work in Newmarket and live in Te Atatu Peninsula. My one way trip is about 17.5km and it takes me about 35-40 mins. I cycle every workday.
Mostly they have cycle ways but..
I've only had a few experiences with being squeezed against the curb (generally buses along Park Rd) or really close passes, but it never feels quite safe to be on the road. I ride quite defensively – and when I don't feel it's safe to overtake me, I take the lane. I have been shouted at a few times, but I haven't encountered other intentionally threatening behaviours.
Generally motorists and parked cars aren't intentionally dangerous. They're just careless and need to be segregated from other more vulnerable rate payers who aren't interested in taking up enormous areas of roadways.
I'm a bit worried about this myself. Later in the year, work is moving to a different location and I'm going to have to ride on roads and semi-segregated lanes. But coincidentally, my preparatory new hi visibility helmet arrived this morning while I was writing this post…. 
In the meantime, I feel sympathy for those parked on the roads this morning. I'm heading off for my 10 minute commute with a lit up helmet.
---
Updated with a few editorial cleanups after I got to work. Helmet works great, turning signals and all. Not sure how well the automatic braking system operates. How am I going to be able to test it?