An OIA request for the unsolicited text sent by Richie Hardcore to PM Jacinda Ardern has been successful.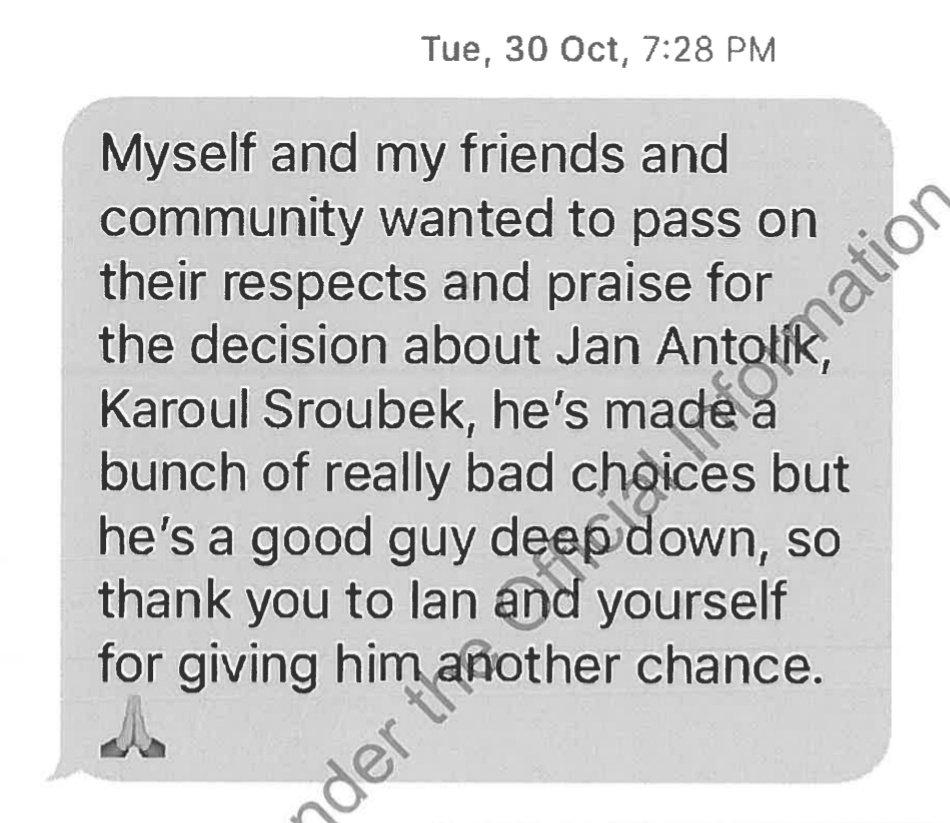 The text, released to Matthew Hooton, is no smoking gun:
"Myself and my friends and the community wanted to pass on their respects and praise for the decision about Jan Antolik, Karoul Sroubek, he's made a bunch of really bad choices but he's a good guy deep down, so thank you to Ian and yourself for giving him another chance."
Nothing incriminating there.
A second text has also been released. It appears to be from fraudster Alex Swney, who was in prison at the same time as Sroubek:
"U [sic] r too polite to say it but I will – Bridges & hte Nats r being bastards about this Sroubek saga. I want to assist with information I hve included in an email I hve just copied u in on. If I can please advise."
On the face of it, there is nothing much to either communication, though obviously, the reference to an email in the second text is bound to be followed up.
Richie Hardcore seems to be assuming that the PM had something to do with the Minister's decision. However, there is no actual evidence to suggest that is correct.
Much ado about nothing, really, though I suppose the right will try and pick the bones out of it anyway.
Frankly, the next time we hear about Sroubek should be as he's waved goodbye at the airport.
Iain Lees Galloway remains a good, hardworking Minister. He'll have learned from this episode and his future remains bright.
Jacinda Ardern, of course, will just sail on serenely, charming the world as she does.
And the Nats, as we have come to expect under their current leadership, have failed to land a knockout blow. However, there is an obvious answer to their lack of ability in the Parliamentary ring.
Simon Bridges should simply sign up for some one on one personal training with Karel Sroubek.
Or maybe he could ask Jacinda for Richie Hardcore's number?