I missed it, but we got the new electorate boundaries on Friday. Now electorate boundaries simply don't matter as much as they used to because of MMP. These days mostly the only people who notice them are electorate MPs (or wannabe electorate MPs), political parties that are too close to the 5% list party boundary, and of course sock-puppet parties like Act and their National party hand. Plus of course political blog sites.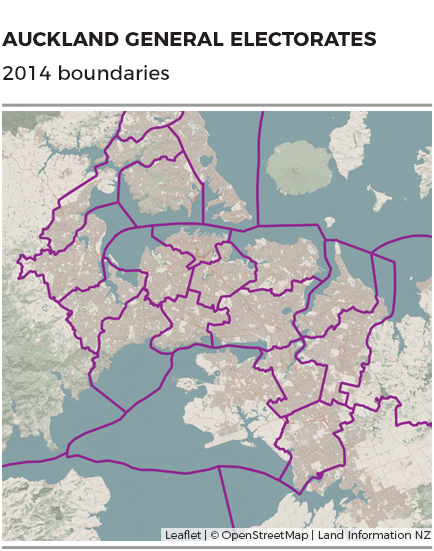 Auckland boundary changes – annoying gif
The Electoral Commission page on the released boundaries is reasonably extensive – complete with some really irritating animations that don't quite show enough detail. The PDF maps are here – also with limited detail (street names would be helpful). The submissions on the proposed changes (always a source of amusement) are here.
Updated: Alice Tectonite points out a Zoomable clickable map of the changes:
RNZ describes the changes thus:-
Boundaries of 30 general electorates and 11 names have been changed, with the most boundary changes in Auckland, Waikato, Otago, Southland, and Christchurch.

This includes a redraw of the fastest growing electorate, Selwyn, which loses the Banks Peninsula area to the former Port Hills electorate – which has now renamed Banks Peninsula.

The new South Auckland electorate is called Takanini, rather than the initially proposed Flat Bush, and draws population from Manurewa, the former Hunua electorate, and Papakura and includes Wattle Downs and Takanini.

To move population southwards to create the new electorate consequential changes have been made to Mt Roskill, Maungakiekie, Manukau East and Manurewa.

The number of Maori electorates remains at seven, but five boundaries have changed, including Tāmaki Makaurau gaining an area around Te Atatū South from Te Tai Tokerau and an area to the east of Manurewa and Waiheke Island from Hauraki-Waikato.

A minor adjustment between Ikaroa-Rāwhiti and Te Tai Tonga has also been made in Naenae.

Other name changes include Rodney is renamed Whangaparāoa, Hunua becomes Port Waikato, and Dunedin South becomes Taieri.
For me, I'm pleased to say that I will still be voting for Jacinda Ardern as my electorate MP. Mount Albert won't be changing its boundaries for the next two elections. Nor will Auckland Central.
Most of the Auckland isthmus changes don't look too extreme. From my rough look at the changes in Mt Roskill, I can't see anything changing. Probably why there were no objections at all.
Act had this amusing vignette as an objection to the Epsom electorate boundaries.
I write on behalf of the ACT Party in response to the Commission's proposed Electoral Boundaries released on 20 November.
In my earlier letter dated 7 October, I argued for the boundaries of the Epsom Electorate to remain the same. I won't rehearse the reasons given in that letter, but continue to stand by them.
On behalf of ACT, I'd like to express strong support for the Commission's proposal to retain the Electorate's current boundaries. We will continue to argue for this decision if it is contested in the first round of submissions.
ACT does not currently wish to express a view on other boundary decisions for other electorates.
Firstly, I wonder what was in the 7th October letter? Secondly, it really does show just how sensitive that Act is to any real change. Labour and Green voters in Epsom between them nearly made it a 3 way race last time. Despite all of his attempts to deter being elected as the local MP, Paul Goldsmith, the erstwhile but very reluctant National candidate, nearly became prey to the joys of being a electorate MP.
Personally having had a good look at the demographics in Epsom a few times, I can't see any real hope of the electorate with that proportion of directors, bankers, finance people, and hairdressers voting left. Realistically Labour and Green voters should hold their noses and tactically vote for a National MP for the next election while giving their party vote to the party of their choice. I'm sure that Paul Goldsmith will welcome the seat 😈
Anyway, feel free to write comments on how the electoral changes will affect your area.