I once was a social scientist evaluating the benefits system. Now I live on a benefit. I was also a health board researcher/service planner. Now I'm ill/disabled. I've suffered iatrogenic harms + decades of medical neglect.
NZ is failing to adequately support the 84,331 disabled New Zealanders who are on WINZ's Supported Living Payment. I did some rough calcs & graphs to show the grinding level of poverty these 84,331 disabled people are forced to live with LONG-TERM.
Eg this graph shows the situation over the past five years, with dollar figures attached (PDF)
So the red blocks are what my gross taxable income looks like. When you take off the tax it's just $265.54pw! Could YOU live on that?
And yes we can apply for "supplements" – accommodation supplement, disability allowance, temporary additional support. BUT the application process is too hard, and WINZ sets fiery hoops that are far too high for many sick/disabled people to jump through!
So disabled people end up stuck on Jobseeker's Allowance for endless years 'cos they can't jump high enough for Supported Living Payment.
Disabled people are losing their houses because accommodation supplement is insufficient and they can't afford housing costs/maintenance.
Budget announced accommodation supplement will go up in 2018 – but IMO its too little, far too late. There are 4 sets of Areas for AS, but there are inequities within each area Eg below are all in "Area 3", max AS $65pw
And disabled people are not getting adequate Disability Allowances because the application process is so hard and max. amount too low. Plus you need access to money in the 1st place to buy what you need, so you can supply WINZ with receipts. So many can't even get started.
Temporary Additional Support is "temporary" – even for those whose diseases & disabilities are permanent.
So what we need is PERMANENT Additional Support! A basic guaranteed income, like NZ Superannuation, that we are ENTITLED to DEPEND upon! Because WINZ's rules, demands, threats & bullying are making lots of us SICKER.
Stressing us makes it LESS likely we will ever recover! And having to live on long-term poverty diets makes us sicker too. So if you want us off WINZ benefits then PLEASE HELP US to get well!
So how do we define what is sufficient or insufficient income? @DrJessBerentson has given a good definition here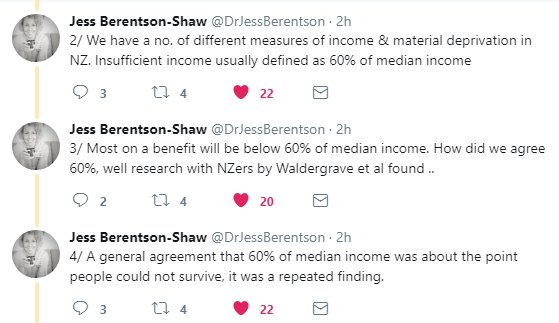 Now let's run the same comparisons as far back as WINZ benefit levels are available online (PDF)
Can you see (↑) what has NOT been happening to the disabled people's base benefit levels in relation to other incomes? And by the way it doesn't matter if it was National or Labour in power – it's the same sh*t via different governments for past 17 years!
I couldn't find data for median incomes, so used median wage/salary to find the approx location of poverty line (PDF)
Here you can see how disabled people's base benefits have hardly moved in real dollar terms over a 17 year timespan. It's NOT good enough!
And here's a comparison of the base benefit for disabled people, as a percentage of other forms of income (PDF)
So our base benefit is nothing like 60% of median income, it's nearer 34%. And it's only 51% of the approx min wage & 66% of the pension
How are we expected to even survive – let alone live normal lives, thrive and participate in our communities as we are entitled to do? Why are these desperately deficient incomes not being challenged, when our govt is subjecting disabled people to such cruel treatment? Unlike sole parents & unemployed people, many disabled have no hope of getting off the benefit because our circumstances won't change.
Unless your illness is terminal – then you can exit the benefit system in a cardboard box ('cos a coffin will be unaffordable!). If your family is also poor, then the max funeral grant they'll get is an insulting $2,030.91 (vs. an avg funeral cost of $8k-$10k). Don't expect a dignified send-off if you're a beneficiary. (If WINZ had its way, it would hire a wheelie bin & send you to the tip!)
So, dear politicians, here's the Convention of the Rights of Persons with Disabilities. You should read it sometime. NZ signed the CRPD in 2006, and it came into force in 2008. Ironically MSD, which is in charge of WINZ, is responsible for ensuring CRPD is implemented in NZ. I wonder if they've even read it yet?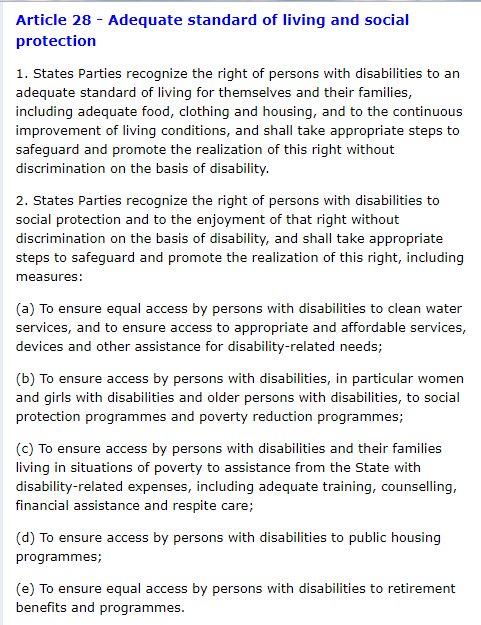 I could go on for hours about all the ways WINZ apparently flouts the CRPD, the Bill of Rights Act 1990, and the Human Rights Act 1993.
I know people who've been left homeless, carless, and totally isolated. To survive some have moved to cheap areas without family support. I lost my own beautiful near-new home when I landed on the benefit, 'cos my sickness benefit + disability allowance was just $223pw! My housing costs were way less than market rentals, but I still had to sell to prevent a default on my modest mortgage.
Instead of being helped and supported when I was desperately ill, I was put through health-destroying stress & left homeless for 4 mths.
Many of us are very sick and/or severely disabled – housebound or bedbound – yet we are still denied in-home services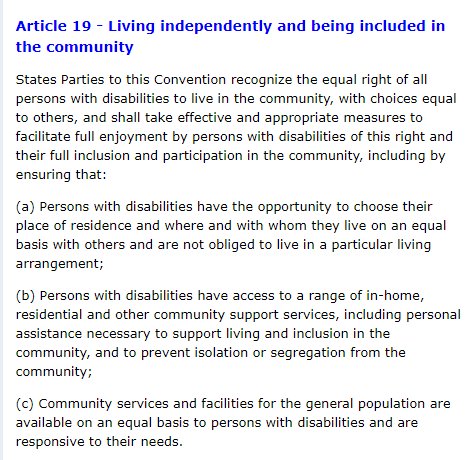 We get batted back & forth between a broken welfare system & a broken health system – neither wants to pay, so they play pass the buck.
When we go to WINZ to beg for help we must join queues we are too sick to be in – elderly can sit in own waiting area, disabled must stand.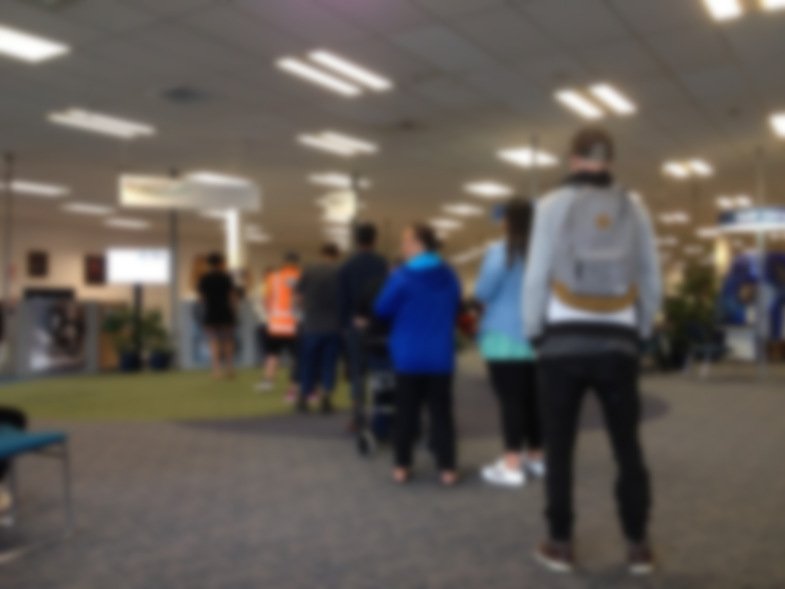 I've tried to arrange ability to email forms in, rather than stand in queues & end up bedridden for days after. WINZ refuses to help. And if you try posting your forms instead, 9 times out of 10 they "lose" them, so your income gets cut off!
If I was well enough I'd lodge a complaint with the United Nations under the Optional Protocol of the CRPD. But I'm too sick to do it.
So I'm calling on all current & aspiring NZ politicians, from all political parties, to do the decent thing & sort this sh*t out please! Or perhaps there are some kind human rights lawyers out there who could take this on pro-bono? (This thread is just the tip of iceberg).
I now challenge ALL New Zealand politicians, from all political parties to do the right thing by our sick, disabled, vulnerable and poor.