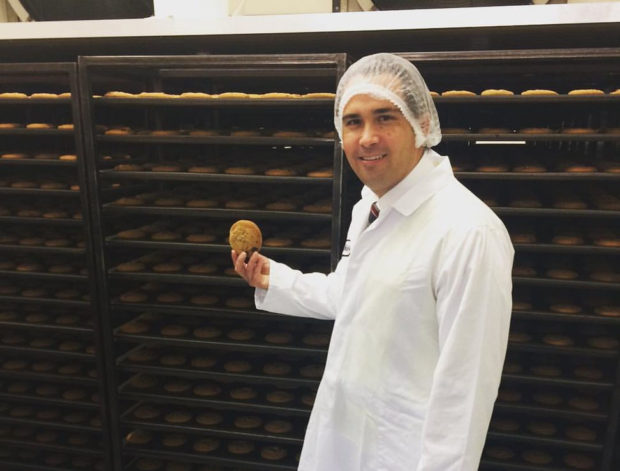 National thinks that it is onto a winner. It has found an example of egregious waste of public money. Not $26 million on a vanity flag referendum, not $11 million to build a sheep station in the middle of a Saudi desert, fly a whole lot of sheep over and watch them die, but $1 million on slushie machines in prisons.
For the prison guards. Who have to work in poorly air conditioned areas wearing uniforms and full body odour armour and who have confirmed that the slushies are the best thing to quickly cool them in the middle of a hot summer's day. As a health and safety measure.
From Newshub:
National Party leader Simon Bridges has slammed the Ministry of Corrections for spending over $1 million on slushie machines.

Corrections bought 193 ice slushie machines for their staff with the intention of improving "their health and wellbeing during the summer months", documents released to the party under the Official Information Act show.

Corrections say prisoners and staff were exposed to uncomfortably hot conditions during the summer of 2017/18 that could have led to unrest within their facilities.

That year, Corrections responded by providing staff extra breaks, access to cold water, fans and flannels while also allowing prisoners more cold showers and time outside of their cells.

Despite the fact no significant unrest occurred that summer, further measures were deemed necessary the next year.

"In preparation for the 2018/19 summer and the potential for a repeat of the previous summer's conditions, we provided crushed ice mixture for staff to consume when required to reduce core body temperatures in excessive heat conditions, while minimising the risk of sodium depletion from dehydration," the statement from Corrections read.

Bridges says these purchases were a complete waste of time and taxpayer money.

"They managed the year before well enough without these slushie machines," he told Newshub.

"It's irresponsible and it's wasteful from Kelvin Davis and the Government."
Kelvin Davis has given the perfect response. From Radio New Zealand:
Mr Davis said spending was an operational matter but he supported measures that improved staff's safety and well-being.

"Staff work hard managing some of society's toughest people. When you've got Corrections officers working in extreme heat and wearing 6kg stab-proof vests, it's vital they are able to keep cool, safe and healthy – and that helps ensure they're able to do their job well too.

"It's a disgrace that Simon Bridges is trying to politicise staff health and safety. This is nothing like the last National Government spending $26 million on a flag referendum or hundreds of thousands on a single TV screen, reception desk and hair straighteners. This is about looking after our people and making sure they're able to perform well – and I make no apologies for it."
Vice President of the Corrections Association Paul Dennehy also did not hold back. Again from Radio New Zealand:
I understand Mr Bridges and the need for financial and fiscal prudence and the question to be asked, it's just disappointing that he's come out so anti it when his party when they were in power introduced measures to alleviate the heat temperatures that prisoners were feeling by giving them iceblocks and icecreams, bottled water, and fans whilst at the same time providing staff with nothing."
The attack is so hamfisted. I mean who is giving Bridges advice? Porky the waste hater?
At the same time as his latest cringe worthy shock horror expose Bridges has confirmed his leadership is on the line by calling for discipline and unity. From Audrey Young at the Herald:
National leader Simon Bridges is expected to deliver a strong message to his caucus on Tuesday that the only path to power is through discipline and uniting behind his leadership.

He said the message he got from delegates at the first of four regional conferences he attended at the weekend, in Hamilton, was the same.

The issue of leadership had not been raised specifically with him, he said.

"But there was a clear and strong message that in addition to holding the Government to account in developing our plans, we win back power by being disciplined and unified," he told the Herald. "That came through loud and clear."
The clock is ticking. Attacks on a sector traditionally generally sympathetic to the right will not help. Who knows but slushiegate may be the event that irreparably damages Bridges' leadership.