Holy lauranorda.  Simon Bridges has chosen to try and deflect away from problems caused by the Tamaki inspired Coalition New Zealand announcement by getting on the crime bandwagon.
He has come out with some statistics and then claimed that crime is out of control.  From the Herald:
National leader Simon Bridges says the number of cases before the courts involving serious harm has increased by 25 per cent since the election in 2017.

He is basing his statement on answers to written parliamentary questions from Justice Minister Andrew Little to National's justice spokesman, Mark Mitchell.

Nationally, cases of serious harm were up 25 per cent, with an increase of 20 per cent in Auckland; 35 per cent in Waitakere; 32 per cent in Wellington; and 40 per cent in Christchurch.

The figures show that the number of serious harm cases before the courts in October 2017 was 17,189, that they steadily increased last year to 19,554 in December, and rose to 21,645 in April 2019.

The questions asked of Little was "What was the number of total active serious harm cases, broken down by district court, each month since October 2017?"

It is not immediately clear whether the increase is due to more crime or a bottleneck in the justice system, or both.

Neither the question nor the answer define "serious harm cases" but Bridges says they would include rape, sexual assault, murder, manslaughter and drug crimes.

Bridges said the statistics showed crime was increasing and cases weren't moving through the courts as quickly.

The increase is serious harm cases before the courts was also occurring at a time when the prison population was decreasing.

"The Government has taken its eye off reducing crime and is focusing on just getting numbers in prison down," said Bridges.
There can be all sorts of reasons for these figures.  There are more police on the beat now and this usually has an effect.  Crime rates tend to go up.  Also crime tends to be seasonal and I suspect the April dates are throwing things out.  And a shortage of Judges can slow down court proceedings and cause cases to back up.  Putting new Judges on the bench is not a quick process.  It takes quite a bit of time to list, vet, appoint and train.
The strange thing is that it appears that offence numbers are decreasing.  Using the Police's handy statistic builder tool here are the overall crime figures since 2015:
Note an overall decrease of 5% for 2018 compared to 2017.  Note also that Bridges did not refer to the 2016 figures, one wonders why.  The 2019 figures are obviously for a part period only.
Here are the figures for assaults or more serious offences for the same period: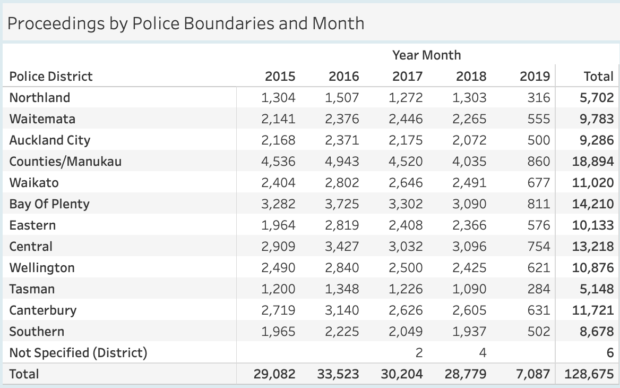 And here are the figures for violent and sexual offences but excluding assaults and breaches of protection orders:
They all show a decrease in the 2018 figures compared to the 2017 and 2016 figures.  Which suggests strongly that Bridges statistics based on a carefully crafted question are showing an anomaly and not a trend.