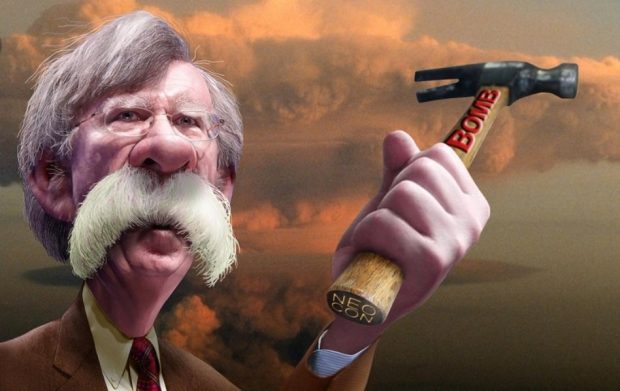 Discussions about American politics on this blog interest me.  I am in the camp that think that the current POTUS is a dangerous threat to the free world, to our climate and to poor people everywhere.
Other lefties think otherwise because, I don't know, Hillary or Russia.
Sure she would not have been my choice for POTUS. As far as I was concerned the choice was between a really shitty status quo and a particularly evil alternative.
And so it has become. Trump rules the world. And right now instead of him being jailed for conspiring to pervert the course of justice by hiding his egregious colluding with the Russian state or at least facing impeachment he is getting to pretend he is ready to wage war on Iran. And you have to wonder if he is doing this as a diversion.
From the Guardian:
The US is sending an aircraft carrier and a bomber task force to the Middle East in response to a "number of troubling and escalatory indications and warnings" from Iran, the national security advisor John Bolton has said.

It was unclear on Sunday night what Iranian actions Bolton was referring to. There have been no recent incidents in the Persian Gulf where US and Iranian navies are routinely in close proximity and the Abraham Lincoln carrier strike group was already bound for the Gulf a month before Bolton made his announcement.

However, the tone of Bolton's declaration looked likely to escalate tensions in the region, and it comes days after the Iranian government expressed concern that Bolton and other hawks were seeking to draw the Trump administration into a new war.

In a written statement, Bolton said the ships and planes were intended "to send a clear and unmistakable message to the Iranian regime that any attack on United States interests or on those of our allies will be met with unrelenting force."
Although it may be that the announcement was nothing more than bellicose spin. Again from the Guardian:
While such changes in global deployment are made regularly, it is rare for the announcement of such deployments to be made by a national security advisor rather than the Pentagon.

"A carrier into CentCom is not unusual and was likely routine and long planned," said Ilan Goldenberg, a former state department and Pentagon official, now a senior fellow at the Centre for a New American Security in Washington. "The inflammatory language from Bolton is unusual provocative but my guess is just an opportunity to try to intimidate the Iranians. Nothing more."
There is something about Iran that triggers Trump.  Despite it complying with UN resolutions concerning its nuclear programme the US has imposed sanctions against the sale of its oil and recently refused to agree to exemptions that allowed China, India and six other nations to buy Iranian oil. World oil prices have since spiked.
So far Iran has shown a great deal of restraint. I hope this continues.